COVID-19 and your studies:
We are monitoring the current situation, however at this stage we are still planning a safe return to campus for Session 1, 2021.
Find out more
.
Welcome to Charles Sturt University!
Being a student isn't an easy job, but the results are rewarding. Visit this page for all the essentials you need to know about to help you on your way to greater knowledge. Whether you're looking for services and support, key dates, help with enrolment or you're just browsing what's on offer, you'll find helpful info here. The easier it is to get through your coursework and graduate the better job we have done!
Access your student environments
Charlie - your student voice
Read stories and advice from fellow students
Your online student toolkit: understand where to go and when
Our campus locations
Our NSW campuses are located in some of Australia's fastest growing regional cities. They offer a unique study experience with the best of city living and the benefits of a regional lifestyle.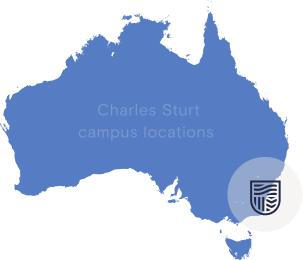 Our campuses
Our study centres
2021 RESIDENTIAL SCHOOL January / February
2020 Session 3 Classes End
5 Feb 2021
Session code: 202090 Session 3 Teaching / Classes End Date
(Exam Period will commence next week)
STUDY LINK Term 2 2021 - Census date
5 Feb 2021
Last day to withdraw from Term 2 subjects without financial liability.
International students should refer to the International Refund Policy.
Term Code: 202115
Kickstart to Referencing
Date
7 Feb 2021 10:00 am - 11:00 am
Get the 101 on referencing and applying the APA Style for referencing to your work. We'll cover all the basics about why you need to reference and how to build your referencing skills for your assignments.
You'll learn how to:
summarise and paraphrase research
write in-text citations and create reference lists.
There'll be lots of interactive activities so you can ask questions and practise your new skills.
For more, please visit https://student.csu.edu.au/student-life/workshops-events/events/referencing/kickstart-to-referencing126
From Start to Submit: 4. Structuring information
Date
7 Feb 2021 12:00 pm - 1:00 pm
Write cohesive and well thought-out assignments that get your message across.
You'll learn how to:
structure texts, sentences and paragraphs
logically set out your papers so they are easy for your markers to follow.
This workshop is part of the From Start to Submit: Writing successful assessments series of five workshops to enhance academic writing and assessment skills. We recommend attending all workshops, though you can go to as many workshops as you like.
For more, please visit https://student.csu.edu.au/student-life/workshops-events/events/academic-writing/from-start-to-submit-4.-structuring-information
Strategies for effective learning and memorising